Information for Speakers and Chairpersons
For Speakers
Oral Presentation
1. PC Reception (Data Preview Center)
Speakers should preview their presentation data in checking of the connection, and complete to register it at least 30 minutes prior to your session.
Date
Time
Location
November 9 (Thu.)
9:00am-4:30pm
Lobby of 3rd Floor, Hotel East 21 Tokyo
November 10 (Fri.)
8:00am-6:00pm
Lobby of Ground Floor (1F), Hotel East 21 Tokyo
November 11 (Sat.)
8:00am-4:00pm
2. Presentation Length:
*Please remain within the presentation length allotted for your presentation.
Program
Presentation Length
General presentation session
*Speakers who are accepted abstracts
9 minutes (6 minutes talk & 3 minutes QA)
Other sessions
Please refer to each sessions' details sent from the secretariat.
3. Time count indication:
On the lectern, timer will be set.
1) During presentation: Green turned on
2) 1 minutes left of your presentation length: Yellow turned on
3) Presentation length is over: Switched to Red
4. Next Speaker's seat in your session's venue:
Please take a next speaker's seat after the former speaker moves to the lectern.
5. Guideline for presentation
The OS of the computer available at the room is as described below.
*For data created with PowerPoint versions other than below, please check ahead of time that it can be used with these specs.
* Media which can be used is USB flash memory.

OS
Windows 10
Software
Windows Microsoft Power Point 365
*Power Point 2013, 2016, and 2019 are also acceptable
Fonts
Standard Fonts for Windows computers

If you wish to use a Macintosh, please bring your own PC.
* We recommend that you bring back-up data in USB flash memory.
[NOTE]
If your presentation links to still images, videos, graphs, or other data, be sure to place those files in the same folder as the Power Point data and bring them. Please confirm ahead of time that the PowerPoint file can be used on a PC different from the one it was created on. Videos are limited to those which can be played back on Windows Media Player. Audio may be used.
The lectern will be equipped with a monitor, a keypad, and a mouse. Please present your session using these devices.
Please do not use "Presenter Tools."
<If bringing your own PC>
Please be sure to bring a power cable. Presenting on battery power may cause problems.
Ensure that your computer is equipped with HDMI output, or, alternatively, a mini-D-sub 15 pins connector.
*If your PC does not have this connection, please bring an appropriate connector with you, along with the relevant adapter. (Please note that the presentation may not be possible without your connector and/or adaptor.)
Please disable screensavers and battery-saving settings ahead of time.
6. For your slide data:
Slide size: We recommended Widescresn (16:9), however, you can use (4:3) also.
Please report any conflict of interest (COI).
We will take responsibility for deleting the uploaded data after completion of the presentation.
Poster Presentation
1. Schedule:
Program
Venue
Mounting
Discussion Time
Removal
Poster Session for exploratory research
Room 6
(3F "EITAI")
November 9 (Thu.)
11:30am-12:30pm
November 9 (Thu.)
12:30pm-2:30pm
November 11 (Sat.)
3:30pm-5:30pm
General Poster Session
Poster Venue
(Ground Floor)
November 10 (Fri.)
8:30am-1:35pm
November 10 (Fri.)
1:35pm-2:35pm
November 11 (Sat.)
3:30pm-5:30pm
November 11 (Sat.)
8:30am-1:05pm
November 11 (Sat.)
1:05pm-2:05pm
* Poster panels for exploratory research will be moved from Room 6 to Poster venue by the secretariat after the discussion time in November 9 (Thu.).
*Please mount and remove your poster within stated time above.
*Any posters remaining after the removal time will be disposed of by the secretariat.
2. Presentation Length: 11 minutes (5 minutes talk & 6 minutes QA)
*Poster presenters are requested to give their presentation in front of their poster panels.
*PowerPoint cannot be used as presentation tools.
3. Poster Specifications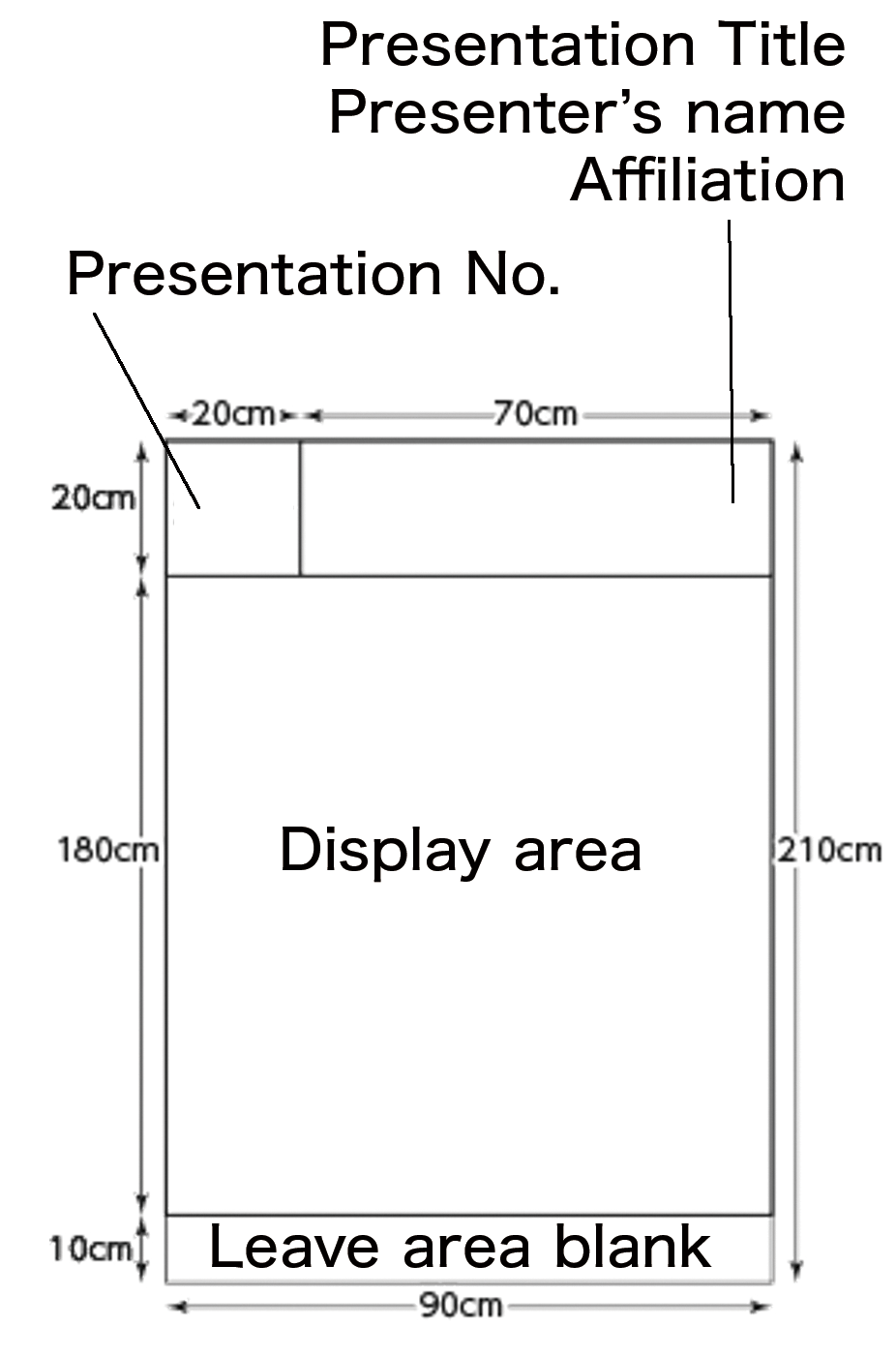 Poster size: H180cm×W90cm (Please refer to the figure1.)
The secretariat will provide the presentation number (20 × 20 cm) on the panel. Please individually provide the label to its right (title, affiliation, presenter name).
* Pins will be provided at the site. Do not post using adhesives or write directly on to the panel.
Please report any conflict of interest (COI) in the upper beginning.
For Chairpersons
Please take a seat in the front row of the room specially reserved for the "next session's chairperson" at least 10minutes before your session starts.
As there will be no announcement or cue, please proceed to take the stage promptly at the appointed time and initiate the session. We request for your cooperation to ensure that your session proceeds according to the prescribed time limit/schedule.