President address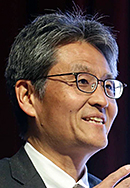 The 31st Annual Meeting of the Japanese Association for Metastatic Research
President Masahiro Inoue
Program-Specific Professor
Department of Clinical Bio-resource Research and Development
Kyoto University Graduate School of Medicine
 The 31st Annual Meeting of the Japanese Association for Metastatic Research will be held at Kyoto University Clock Tower Centennial Hall in Kyoto City on July 7th and 8th, 2022. It is a great honor to hold the event. I would like to express my deep gratitude to the honored and meritorious members, directors, secretaries, councilors, and members to give me such an opportunity. This is the first Annual Meeting in Kyoto during the history of the Japanese Association for Metastatic Research.
 The theme of the meeting is 'shooting a moving target - targeting plasticity of cancer'. Owing to the development of molecular targeting drugs and immune checkpoint drugs, cancer therapy has remarkably advanced. Nonetheless, the effect of these therapies is restricted to some patients and some timings. Plasticity, being flexible enough to be changed into a new phenotype, is one of the natures in cancer, which is highly related to the difficulty of understanding cancer and developing cancer therapies. If the targeted phenotypes are unstable, cancer cells can easily escape from the targeted therapy. For effective cancer therapy, we have to shoot a moving target, which is much harder than shooting a fixed target. Encouraged by the recent advances in understanding plasticity in cancer, I chose the theme for the coming Annual Meeting. Not limited to the studies related to the theme, we are expecting a wide range of presentations, including clinical case reports of cancer metastasis.
 From the spring of 2020, the pandemic of the new coronavirus infection (COVID-19) had a significant impact not only on our lives but also on the Annual meetings. The 29th meeting in 2020 hosted by Professor Hiroshi Yokozaki of the Department of Pathology, Graduate School of Medicine, Kobe University was held on paper, and the 30th meeting in 2021 hosted by Professor Yoshiyuki Fujiwara of the Department of Gastrointestinal and Pediatric Surgery, Faculty of Medicine Tottori University was held on the web. I hope we can hold the 31st meeting normally as it is quite important to discuss face to face especially at the Annual Meeting of the Japanese Association for Metastatic Research.
 The first half of July is just before Gion Matsuri, a peak season of tourism. It is a transitional timing from the rainy season to the hot summer. The summer in Kyoto is notoriously hot and humid, so please attend the meeting with no jacket and tie. As an old capital, Kyoto has many historical architectures and arts. On the other hand, Kyoto has contemporary features such as the highest consumption of bread and coffee per household in Japan. Kyoto has experienced profound damage to tourism by COVID-19. I hope the meeting will help the reconstruction of tourism in Kyoto even just a little. Please enjoy your stay (also bread and coffee) in Kyoto after having a hot discussion in the meeting.
 We are looking forward to seeing you at the meeting.
Congress President Office
Department of Clinical Bio-resource Research and Development
Kyoto University Graduate School of Medicine
Med-Pharm Collaboration Bldg. 503
46-29 Shimoadachi-cho, Sakyou-ku, Kyoto, 606-8304, Japan
Congress Secretariat Office
c/o ACE Enterprise Co. Ltd
KYONI BLDG. 4F, 4-3-24 Kudan-kita, Chiyodaku,
Tokyo, 102-0073, JAPAN
TEL: +81-3-6261-0245 / FAX: +81-3-6261-0246
Mail: jamr2022@ace-enterprise.net